Public School

Public School is training in a group classroom setting. It's kind of like having your own puppy support group! And, at WP, we keep our class sizes small to make sure that you get the best in personal attention from your trainer.
---
WoGo Playgroups
This is not your standard playgroup! This is the most important first class a puppy can take! WoGo classes combine controlled playtime with learning how to calm down and connect to you. They help shy dogs become more confident and overly-confident dogs gain self-control ...and they teach you how to speak dog! There is an emphasis on parent education that teaches you how to read body language and what to do if your puppy becomes nervous or overly-excited in situations. First-time attendees receive a socialization assessment and will be given a copy to take home. Classes are by size: Tiny Tykes (up to 12lbs), Little Tykes (12-25lbs), & Big Tykes (25-55lbs)

WP Recommendations:
To have a pup who is socially well-adjusted, attend 1-2 play classes per week from 9 until 24 weeks of age.
To get the most out of your experience, read "Calming Signals" by Turid Rugaas.

Level: Beginner
Ages: 9 weeks to 6 months
Length: 1 hour
Cost: $25 per Session, or 5-Session Package for $115

Pre-requisite: You must attend a single WoGo Session before purchasing a 5-Session Package

SIGN ME UP!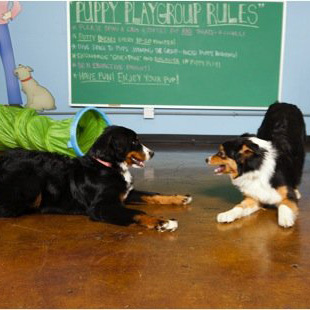 ---

Basic Training Series
Wonder Puppy offers the very best start for you and your puppy. Our signature training series is made up of 3 courses progressing from easy to difficult. At the end of the series, you will take the Canine Good Citizen test and demonstrate 16 foundational skills in an outdoor setting without any training tools! This signature training series is the perfect training foundation, especially for dogs in their first year of schooling!



Good Puppy℠
Good Puppy is the perfect beginner's course for start-up success. The course includes an introduction to puppy parenting, socialization, and reward-based clicker training for basic skills such as name recognition, sit, down, come, take it, drop it, leave it, park it, leash manners, and more. At the end of the course, you also have the option to participate in the American Kennel Club's S.T.A.R. Puppy Test. This course is not just about having a well-mannered puppy...it's about having a healthy and happy relationship with your puppy!


Level: 
Beginner
Ages: 
12 weeks & older *Start attending WoGo Playgroups until your class begins for early socialization.
Class Size: 5 Students
Length: 
1 hour and 15 minutes, 8 sessions + "wonder parenting 101" orientation
Includes: 
Clicker, handouts, and STAR Puppy Test
Cost: $295

Notes:
*For puppy playtime, please attend WoGo Playgroups with our trainers who specialize in play education. Because our intimate class size often limits dog to dog compatibility, this class focuses on socialization in the presence of other dogs while connecting to you!
---
Great Puppy℠
Great Puppy will expand upon your puppy's learning foundation by adding distance and distraction to basic skills and fading out food rewards for well-known skills. You will continue to work together as a team as you teach your puppy practical tasks such as "focus" from a distance and "go to your bed" when someone comes to the door. At the end of the course, you will have the option of taking the AKC S.T.A.R. Puppy Test. By learning through success, you and your puppy will become prepared for the challenges of everyday life…while having fun!


Level: Intermediate
Ages: 5 months & older
Length: 1 hour 15 min classes, meeting for 10 weeks
Class Size: 4 Students
Includes: Clicker, handouts, and STAR Puppy Test
Cost: $295

Pre-requisite: Good Puppy Course, or equivalent with private session (if transferring from another training company, it's required to schedule a Private "Make-Up Session" before attending Great Puppy Class).

SIGN ME UP!
---
Wonder Puppy℠
Wonder Puppy is the final course and crown jewel of our signature training series. In this invaluable course, you and your pup will work together to polish your basic skills in real-life settings. It's sure to be a challenge and take your training to the next level! All Wonder Puppy Classes are held in city park locations with the goal of fading out all training tools by the end of the course. At the end of the 8 weeks, you will have the option to demonstrate these skills in the Wonder Puppy Assessment and AKC "Canine Good Citizen" evaluation. It's a great way to "pull it all together"… so that your puppy becomes a true Wonder Puppy!


Level: Advanced
Ages: 8 months & older
Length: 1 hour 15 min classes, meeting for 8 weeks with the last week being the Wonder Puppy℠/CGC test
Class Size: 4-5 Students
Includes: Clicker, handouts, Wonder Puppy Assessment with CGC Test
Location: Out and about! Your trainer will determine the location at least 48 hours prior to each class
Cost: $295 for 8 sessions

Pre-requisite: Great Puppy Course, or equivalent with private session (If transferring from another training company, it's required to schedule a Private "Make-Up Session" before attending Wonder Puppy Class).

Note: This is a Late Spring-Late Fall course because classes are held outdoors.

SIGN ME UP!
Before You Come to Your Group Class or Playgroup
Please Bring:
Leash 6ft leash (non-retractable)

Harness and/or collar (no chains or prongs)

Treat Pouch and Treats - a variety of really yummy, chewy pea-sized goodies (you can get 'em here!)

Clicker (group courses only and you will get one at the first class!)

Edible Chew Stick and/or Stuffed Kong

Toys - squeaky toy and tug toy

&... An exercised, pottied, semi-hungry pup!
Pup Requirements:

Healthy, vaccinated, & free of parasites:
At least one wellness check-up by your personal Veterinarian + and health approved for attending training services with Wonder Puppy®.
One set of puppy shots and one deworming given by veterinarian + 7 days, for: Distemper, Hepatitis (or Adenovirus), Para influenza, and Parvovirus.
Bordetella and Leptospirosis, only if recommended by your veterinarian
No diarrhea, vomiting, or coughing within 24 hours of attending WP training services.
While we don't REQUIRE a fecal, it is very important to get a fecal done for your dog to make sure that they are not carrying parasites. We strongly suggest you ask your vet to check this.
Shelter and rescue quarantine time:
Adopted pups can come to class after 10 days in their new homes and once their new veterinarian gives them a clean bill of health.