Public School

Public School is training in a group classroom setting. It's kind of like having your own puppy support group! And, at WP, we keep our class sizes small to make sure that you get the best in personal attention from your trainer.
---
Core Classes

Social Puppy
Social Puppy is the most important first class you will ever take with your dog - for puppies 9-20 weeks of age! This class includes a combination of appropriate play training and bite prevention exercises. Social Puppy references the 5 stages of play to assess your dog's sociability and uses WoGo® Techniques to encourage good habits. WoGo-based play is not just about being socially confident, it's also about being socially appropriate. It's about balancing the "go-go-go" with the "whoa!" so your puppy learns how to self-regulate when nervous or over-excited. Each session includes two trainers who will help you navigate playtime, breaks, connection with you around other puppies, and worldly socialization exercises. It will help teach your puppy how to soften her mouth and it will teach you both how to speak dog!


When should you start? ASAP after 9 weeks of age! You only get one puppyhood and the first 20 weeks the most critical time. It's kind of like getting puppy vaccines for preventing fearfulness and aggression. Classes are by size: Tiny Tykes (up to 12lbs), Little Tykes (12-25lbs), & Big Tykes (25-55lbs)

Level: Beginner
Ages: 9 weeks to 5 months
Length: 1 hour, single sessions
Cost: $25 per Session, or 5-Session Package for $115
Vaccination Requirement: First set of puppy shots + 7 days. Click here for Veterinarian Recommendation.
Cancelation Policy: 24 hours notice before class starts to receive credit or refund. To cancel: log in, go to the day you have scheduled, and click "cancel".
*If your puppy has had ANY sneezing, coughing, vomiting, or diarrhea, or lethargy within 24 hours, you MAY NOT attend class.
*This class is not for every puppy. Some puppies don't enjoy being enclosed in a small space with other youngsters. Some will prefer less stimulating environments, nature and/or older dogs. We let the puppies tell us what will help them best, and sometimes that's a good referral out. We will recommend whatever will help them thrive the best!:)
Pre-Requisite: Sorry, but for physical safety, puppies go to dog parks or non-puppy-specific daycares are NOT ALLOWED to attend Social Puppy Class.

WP Recommendations:
-Dogs need a minimum of 20 positive play experiences by 20 weeks of age with 20 different pups - at least 2 times per week during their critical brain development.
-For best results, take the Good Puppy Course for basic training, and read "Calming Signals" by Turid Rugaas.

SIGN ME UP!


Playgroup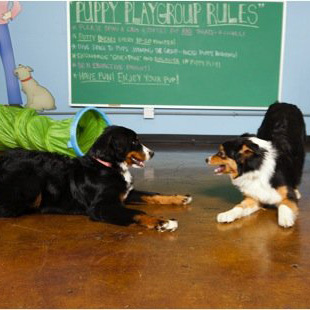 ---

Basic Training Series
WP offers the very best start in basic training your puppy! Our signature series is made up of 3 courses progressing from easy to difficult - the perfect foundation, especially for dogs in their first year of schooling!

Level: 
Beginner through Advanced
Suggested Ages: 9 weeks & older *This class and Social Puppy go hand-in-hand for early socialization.
Class Size: 4-5 Students
Length: 
1-hr classes meeting for 8 weeks + "wonder parenting 101" orientation for beginners
Cost: $295
Cancelation Policy: 72 hours notice before course starts to receive credit or refund
Pre-requisites: Each class builds on the last. If transferring from another training company into Great or Wonder, it's required to schedule a Private "Make-Up Session" to assess readiness. Please contact the office at info@wonder-puppy.com or 503.697.7877.
Health and Temperament Requirements: All pups must be healthy and dog-safe. If your pup has anxiety or is excessively barky, group class may not be appropriate - please arrange a time to come by to see how your dog does in the classroom environment. Please contact the office at info@wonder-puppy.com or 503.697.7877.

Your first course includes a Wonder Parenting 101 Group Orientation
Wonder Parenting 101 is just for YOU (no pups)! To set everyone up for success, this is a class that covers all of the tools and knowhow to succeed in your training classes and beyond! We will share the secret formula so you can tackle the common behavior issues with confidence and think like a trainer. You will learn to prevent and train for unwanted habits including:
| | | | | |
| --- | --- | --- | --- | --- |
| play biting | house soiling | jumping | ignoring | demand barking |
| chewing | crate issues | separation issues | digging | & more! |
Good Puppy is the perfect beginner's course for start-up success. The course includes bite-prevention exercises and reward-based clicker training for basic skills such as name, sit, down, stay, come, take it, drop it, leave it, park it, leash manners, and more. This course is not just about having a well-mannered puppy...it's about having a healthy and happy relationship with your puppy!