Christina Gray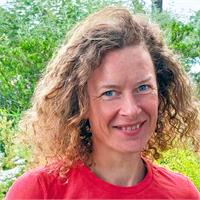 Wonder Trainer
Christina has been training dogs professionally since 2014. She grew up with sheep, horses and dogs, but found her passion for dog behavior later in life. While working as a professor in the social sciences, Christina began volunteering with Rhodesian Ridgeback rescue organizations in California and met a magical rescue dog named Pippa who won her heart but needed help trusting humans. Helping Pippa and other rescue dogs find their best life was the start of Christina's path to become a dog trainer. When Christina isn't at Wonder Puppy, she can be found running ultras in the mountains, hiking with her dogs in the great outdoors, cooking and eating great food, working on her CPDT, and making art!


Bachelor of Arts – Conflict Resolution and History
Ph.D. Politics and International Relations
Certified Professional Dog Trainer-Knowledge Assessed *pending
Pet First Aid/CPR Certificate PetTech
Specialities include: Socialization, Basic Skills, Leash Reactivity, Anxiety/Fearfulness, Separation Anxiety, Active dogs, Human-Dog teamwork
Christina Gray is currently not instructing any classes.