Alex Schultz, CPDT-KA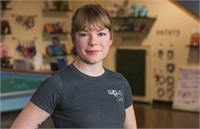 Wonder Trainer & WoGo Trainer
Alex has been training dogs professionally since 2012 and joined Wonder Puppy in 2015. After moving to Portland, Oregon from the Northshore of Massachusetts, she began her dog education by volunteering for the Oregon Humane Society. It was working with shelter dogs that eventually led to the career that she's so passionate about today! Although she loves it all, dogs in play are Alex's absolute favorite and you can find her happiest while leading playgroups at Wonder Puppy. In Alex's free time, you can find her hiking and swimming with her rambunctious rescue pup, Gordy, reading and couch lounging with her laid back rescue pup, 'Old Man' Kenny, racing bikes in the local OBRA circuit, or maybe just catching a movie with her pals!
Certified Professional Dog Trainer - Knowledge Assessed
Oregon Humane Society Dog Trainer Prep Program Professional
Member of the Association of Professional Dog Trainers
Canine Good Citizen Evaluator
PetTech CPR & First Aid Certified
Volunteer Private Trainer for Family Dogs New Life Foster Program.
Specialties Include: Bringing Puppy Home, Socialization, Basic Skills, Common Puppy Issues, Appropriate Play, Introducing New Family Members, Good Puppy Course, Great Puppy Course, Leash Reactivity
Alex Schultz, CPDT-KA is currently not instructing any classes.