Wonder Parenting 101
This class is taught by: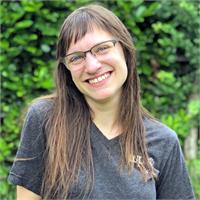 Wonder Trainer
Kira joined the Wonder Puppy team in 2016. Her passions include working with the herding, sporting, and working breeds, and she has experience in competition obedience and agility with her own dogs. Kira has been working with dogs since her teenage years when her pups, Opus, a senior Beagle, and Brody, an Australian Cattle Dog, inspired her to learn more about canine body language and effective interspecies communication. More recently, she enjoyed working with goats on commercial farms before moving back home to Portland and building a career working with dogs. Kira now lives in SE Portland with her partner, a school of fish, and their two canine companions - a sweet Pointer mix, Dax and an eager Miniature American Shepherd, Bear.
Specialties Include: Bringing Puppy Home, Socialization, Basic Skills, Common Puppy Issues, Appropriate Play, Introducing New Family Members, Good Puppy Course, Great Puppy Course, Leash Reactivity
Terri has been training dogs professionally and working with Wonder Puppy since 2013. Terri was a late bloomer into the world of dogs, but her life quickly went from dogs not being a part of her life to dogs completing her life. It was the love of her first dog, Stella, that led her on the journey to pursuing her certification in the dog training profession. Once she became a trainer, she adopted two rescue dogs who needed to find trust and faith in the human race again. As it turns out, those pups, Demi and Brooke, have been two of the best teachers she has had yet! The love of helping her dogs to find confidence is what cultivated Terri's passion for coaching other people in supporting their own sensitive dogs. When Terri isn't working at Wonder Puppy, she can be found enjoying fun adventures with her pups in the great outdoors, biking, gardening, and teaching yoga!
Bachelor of Arts – Computer Design/Information Systems/Mathematics
MBA- Management Information Systems
Certified Professional Dog Trainer-Knowledge Assessed
Graduate of Whole Dog Academy
Member of the Association of Professional Dog Trainers
Canine Good Citizen Evaluator
Pet First Aid/CPR Certificate Oregon Humane Society
Specialities include: Socialization, Basic Skills, Common Puppy Issues, *General Anxiety/Fearfulness, *Separation Anxiety, *Reactivity, Good Puppy Course, Great Puppy Course, Canine Good Citizen Testing
*her favorite subjects!
Upcoming classes: